Language
Domek dla lalek xxl Rezydencja Maya 28 el. Ecotoys ECOTOYS
Shipping within

24h

Shipping price

The Lack Of

The Availability Of

Duża dostępność

181

opak

The Weight Of The

20 kg
| | |
| --- | --- |
| The bar code | |
| EAN | 5903769974887 |
Zamówienie telefoniczne: 888333548
Description

Reviews & ratings (0)

Ask a question
DUŻY DOMEK DLA LALEK
Dla dzieci od 3 roku życia
Drewniana, bezpieczna dla dzieci konstrukcja
Wysokość aż 138,5 cm
Komplet 28 mebelków
4 niezależne poziomy, 7 pomieszczeń
Ruchoma winda
Odzwierciedlenie prawdziwego domu
Zabawka rozwija wyobraźnię, kreatywność i zdolności manualne
Produkt marki ECOTOYS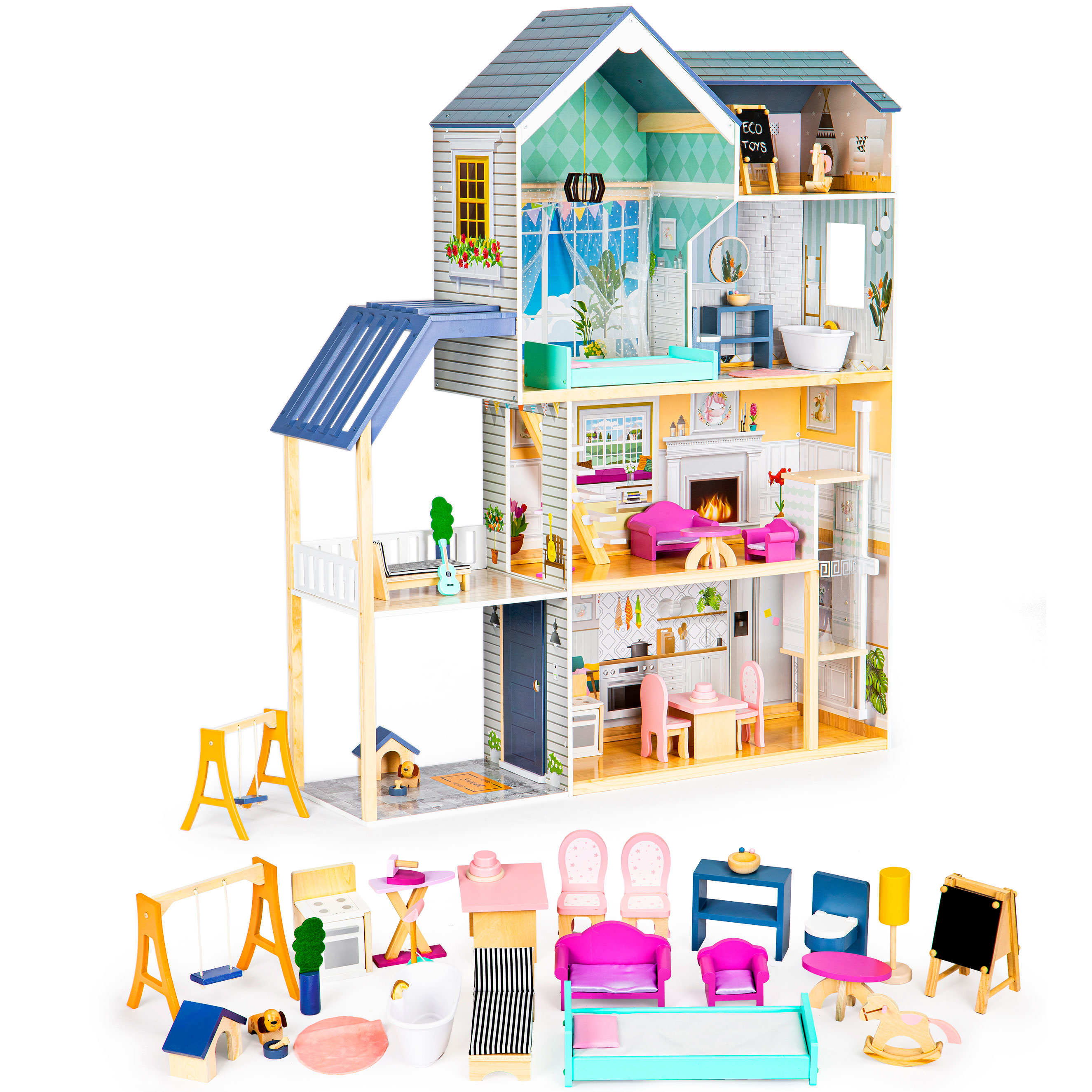 REZYDENCJA "MAYA"
Rezydencja MAYA to strzał w dziesiątkę, fantastyczny pomysł na prezent jaki możesz sprawić swojemu dziecku. Marzeniem każdej dziewczynki jest to aby mogła bawić się swoimi lalkami w przygotowanym do tego domku.
Stonowana, dobrze dobrana kolorystyka sprawia, że domek będzie świetnie prezentował się nie tylko w dziecięcym pokoju ale także w salonie, budząc przy tym zachwyt wszystkich domowników i gości.
Pomieszczenia domku zostały zaprojektowane tak, by były przestronne i umożliwiały swobodną zabawę dużymi lalkami.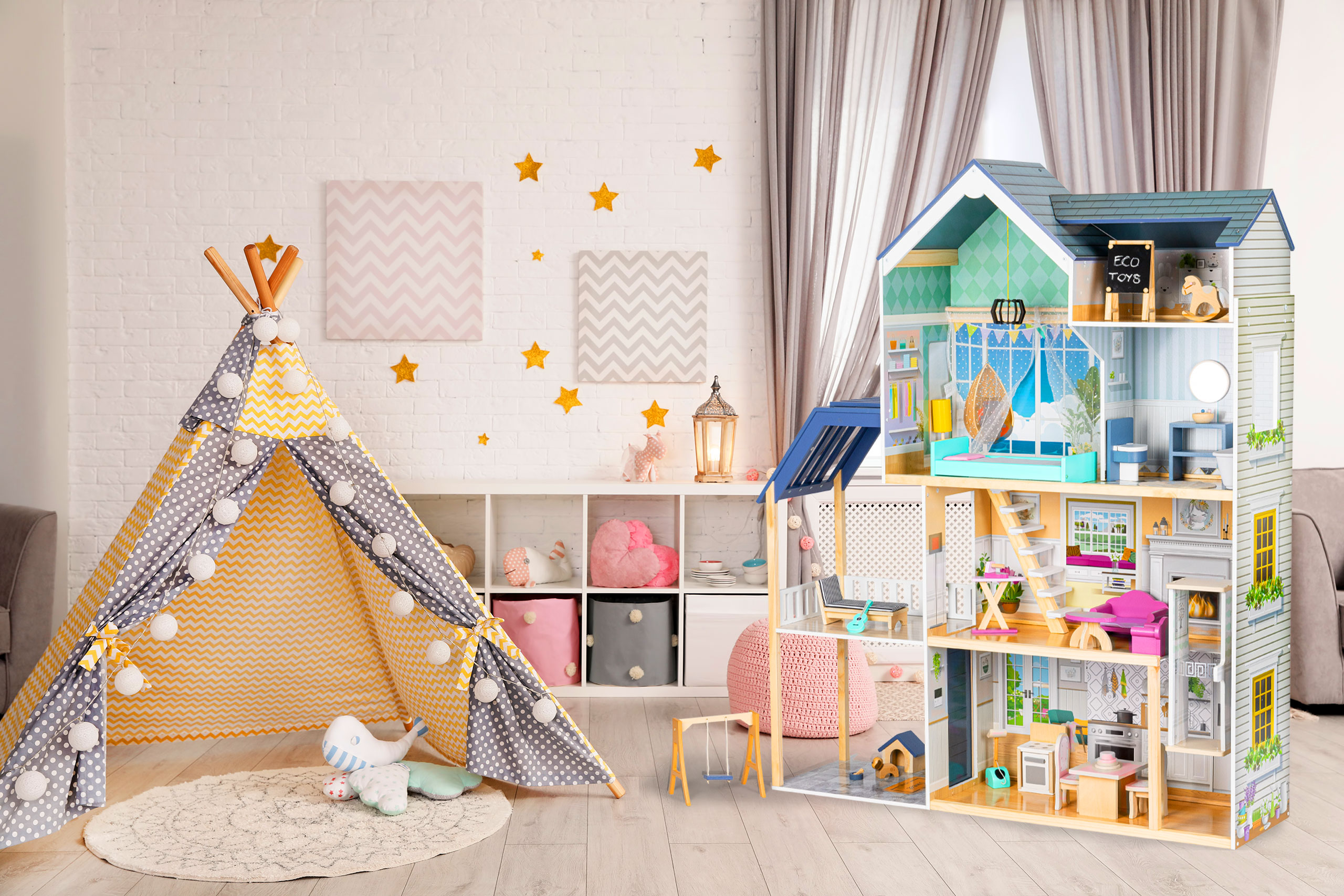 WSPANIAŁA ZABAWA
Wystarczy chwila zabawy aby dziecko go pokochało. Cały domek ma 4 niezależne poziomy, w których znajduje się łącznie 7 pomieszczeń, w tym taras oraz zadaszone wejście. Każde pomieszczenie wykończono w innej stylistyce, dopasowując wystrój oraz meble do charakteru i przeznaczenia danego pokoju. Nic jednak nie stoi na przeszkodzie aby Twoje dziecko pobawiło się w projektanta wnętrz i urządziło je po swojemu.
Zestaw obejmuje również komplet 28 drewnianych mebli, oraz innych przedmiotów takich jak odkurzacz, gitara, lustro, czy buda dla pasa. Wszystkie elementy można dowolnie wyjmować i przestawiać bez żadnych ograniczeń.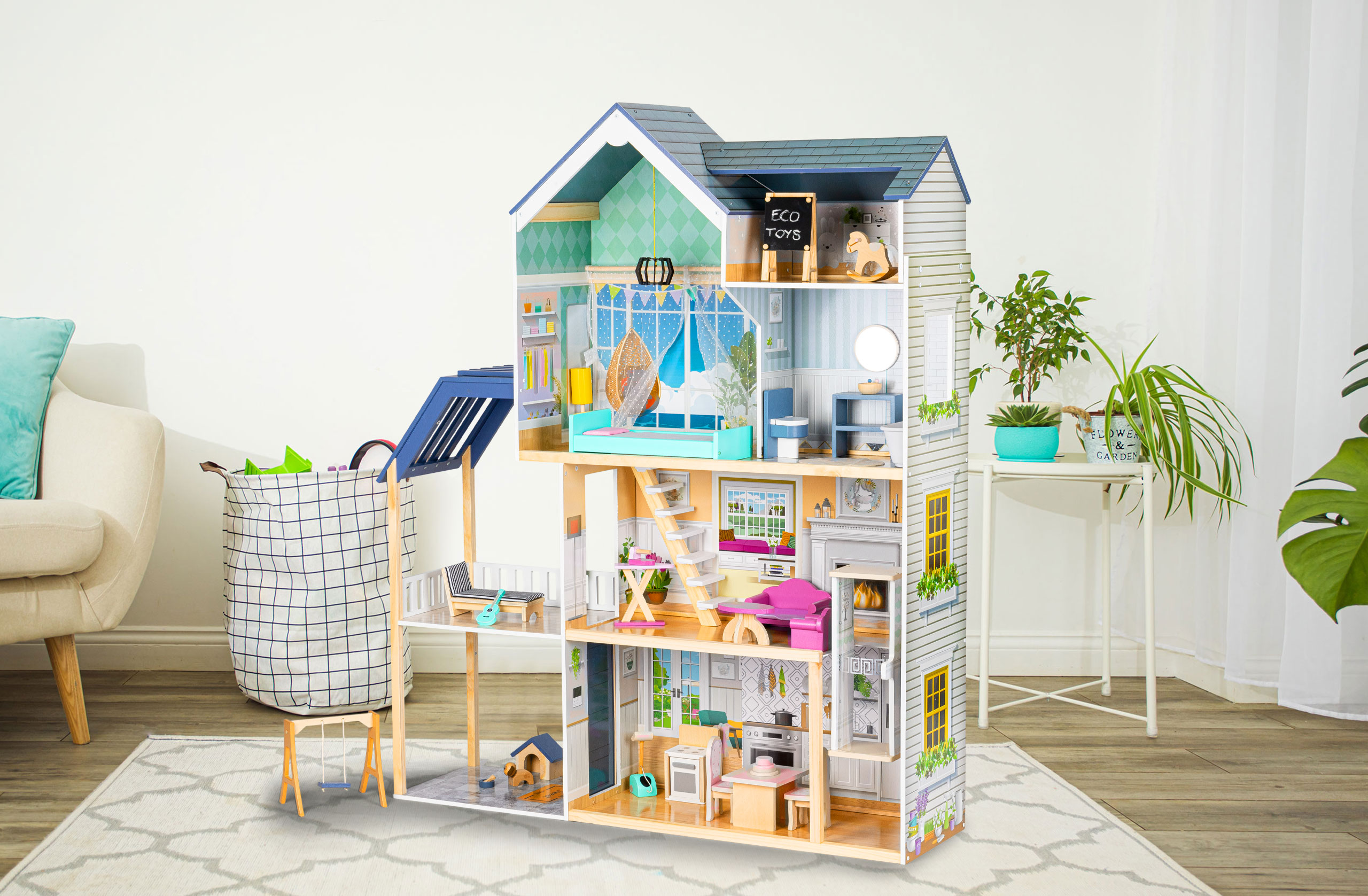 W ZESTAWIE 28 KOLOROWYCH ELEMENTÓW:
lampa
łóżko
dywanik
tablica
koń na biegunach
wanna
lustro
toaleta
szafka z umywalką
leżanka na taras
kwiat
gitara
deska do prasowania z żelazkiem
kanapa i sofa
2 stoliki
huśtawka
huśtawka
kuchenka 2 krzesła
odkurzacz
piesek, buda, miska i kość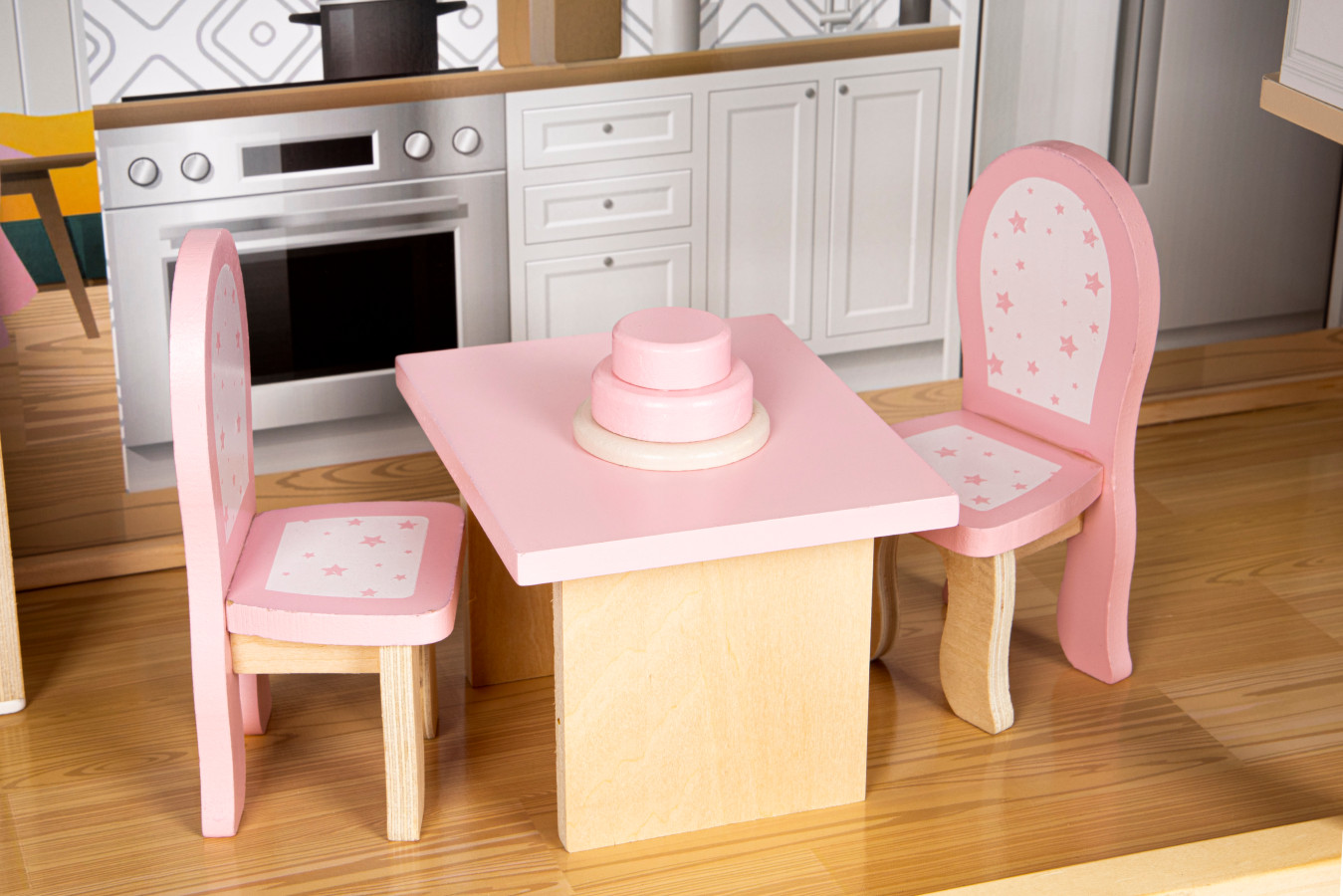 SPECYFIKACJA
Ilość mebelków: 28 sztuk
Czas montażu: około 60 min (czytelna polska instrukcja)
Przeznaczenie: od 3 lat
Certyfikaty: CE, EN71
Waga: 17 kg
Kod produktu: 8101
Producent: ECOTOYS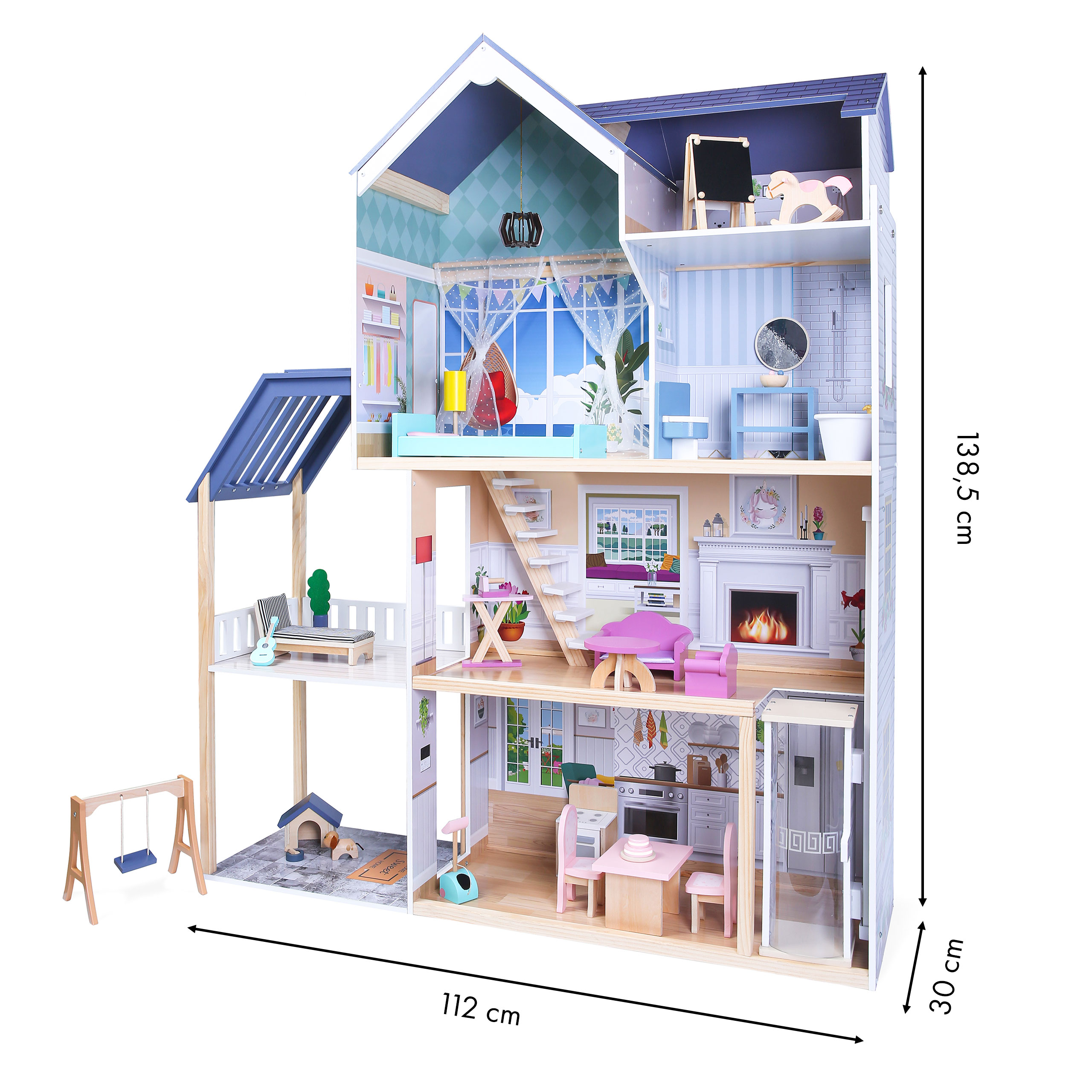 There is currently no comments or ratings for this product.
Recently viewed products

Other Customers also purchased

Similar products