Language
Drewniany warsztat z narzędziami - 47 el. Ecotoys
Shipping within

24h

Shipping price

The Lack Of

The Availability Of

Duża dostępność

344

opak

The Weight Of The

5.5 kg
| | |
| --- | --- |
| The bar code | |
| EAN | 5903769974429 |
Zamówienie telefoniczne: 888333548
Description

Reviews & ratings (0)

Ask a question
DREWNIANY WARSZTAT Z NARZĘDZIAMI MARKI ECOTOYS
Dla dzieci od 3 roku życia
Drewniana konstrukcja bezpieczna dla dzieci
Duży blat z otworami i labiryntem
Komplet 5 drewnianych narzędzi
Drewniane śruby, płytki i nakrętki do skręcania
Drewniane imadło i obracająca się piła stołowa
Zabawka rozwija kreatywność, wyobraźnię i zdolności manualne
Certyfikaty: CE, EN71,
Produkt marki ECOTOYS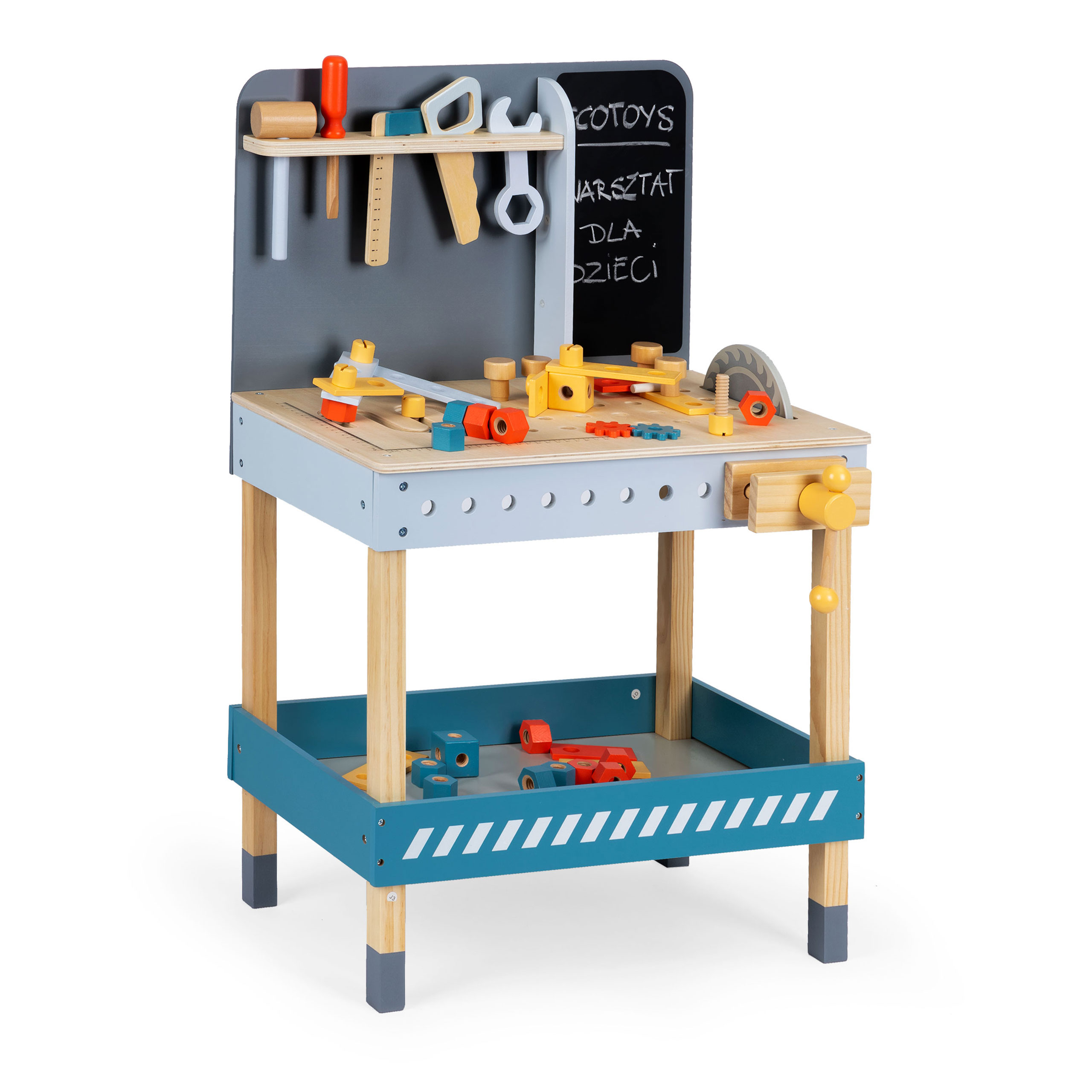 MAJSTERKOWANIE W KAŻDYM WIEKU
Każde dziecko uwielbia naśladować zachowania dorosłych. Zabawa prawdziwymi narzędziami to raczej nie najlepszy pomysł, dlatego alternatywą może okazać się drewniany warsztat marki ECOTOYS z bogatym wyposażeniem, którego może pozazdrościć niejedna złota rączka.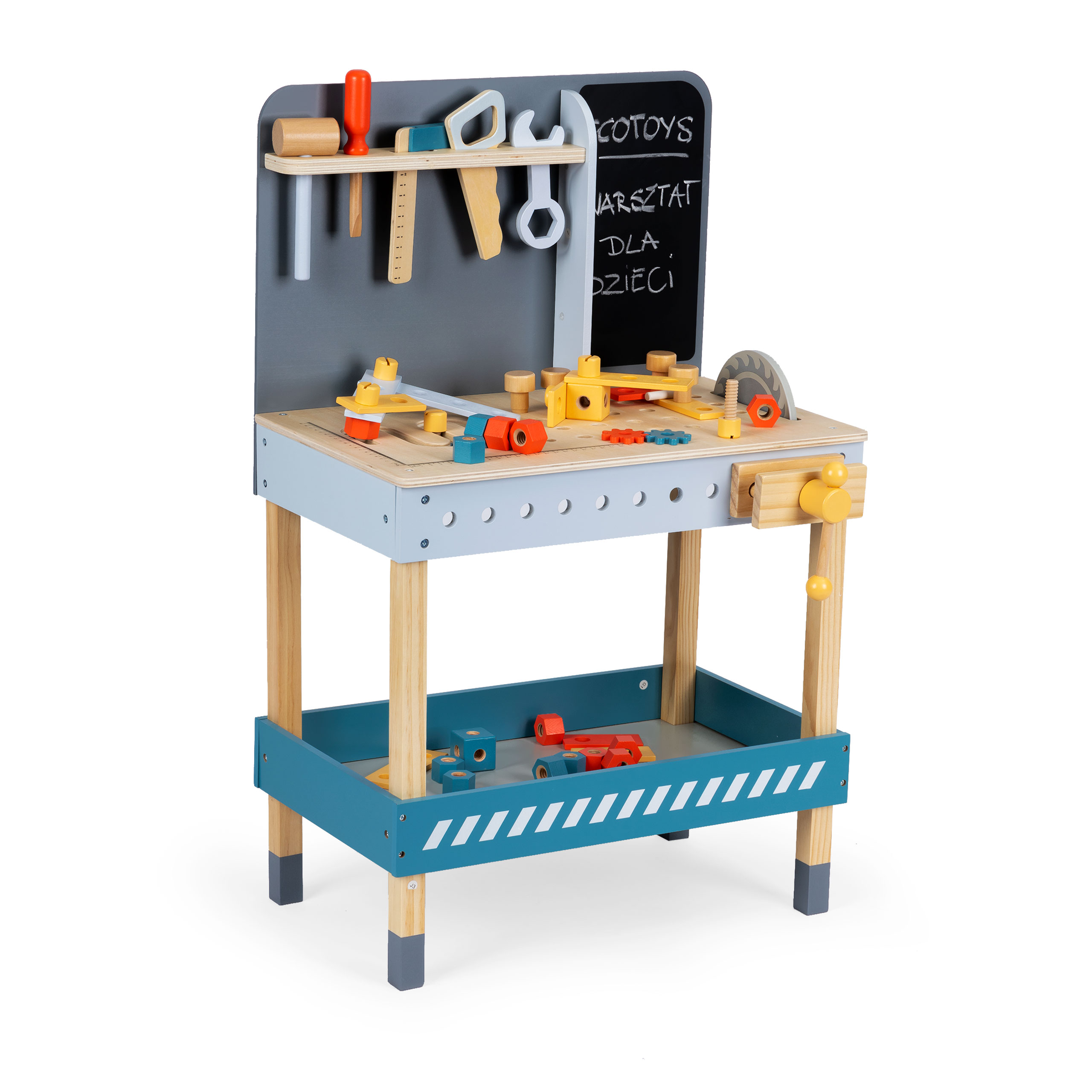 ROZWÓJ DZIECKA
Zadbaj o prawidłowy rozwój Twojego dziecka w zakresie koordynacji ręka-oko. Nasza zabawka została stworzona z myślą o rozwijaniu umiejętności dziecka poprzez proste czynności manualne - skręcanie śrub, dopasowywanie śrub do dziur, używanie imadła. Dzięki temu Twój maluch będzie sobie lepiej radzić z wykonywaniem późniejszych zadań takich jak rysowanie, pisanie czy nawet ubieranie się.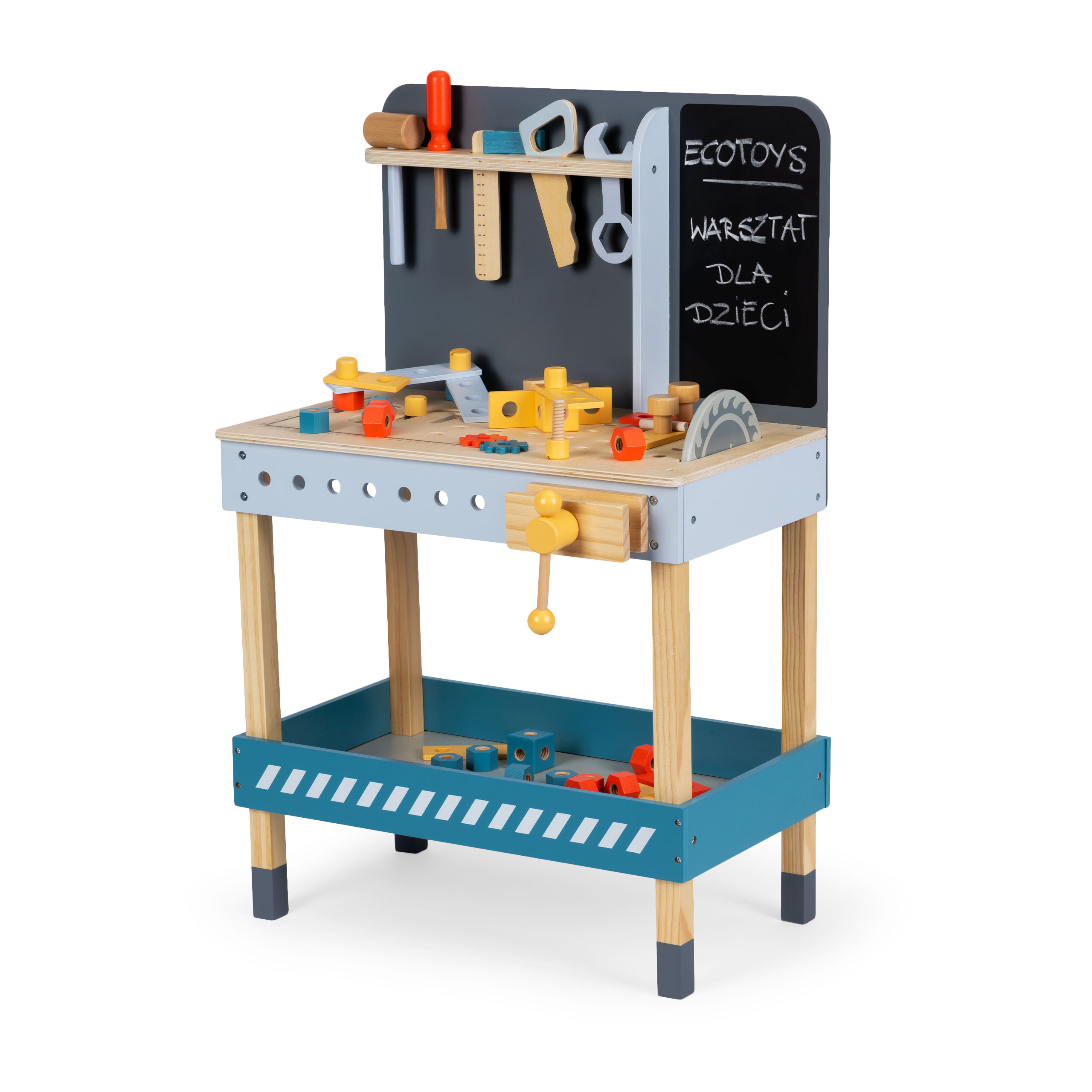 JAK W PRAWDZIWYM WARSZTACIE
Na wysokości blatu znajduje się imadło, które pomoże złotej rączce w konstruowaniu i reperowaniu. Obracając uchwytem ścianki imadła dociskają umieszczony między nimi przedmiot.
Przy prawej krawędzi blatu znajduje się obrotowa tarcz imitująca prawdziwą piłę stołową.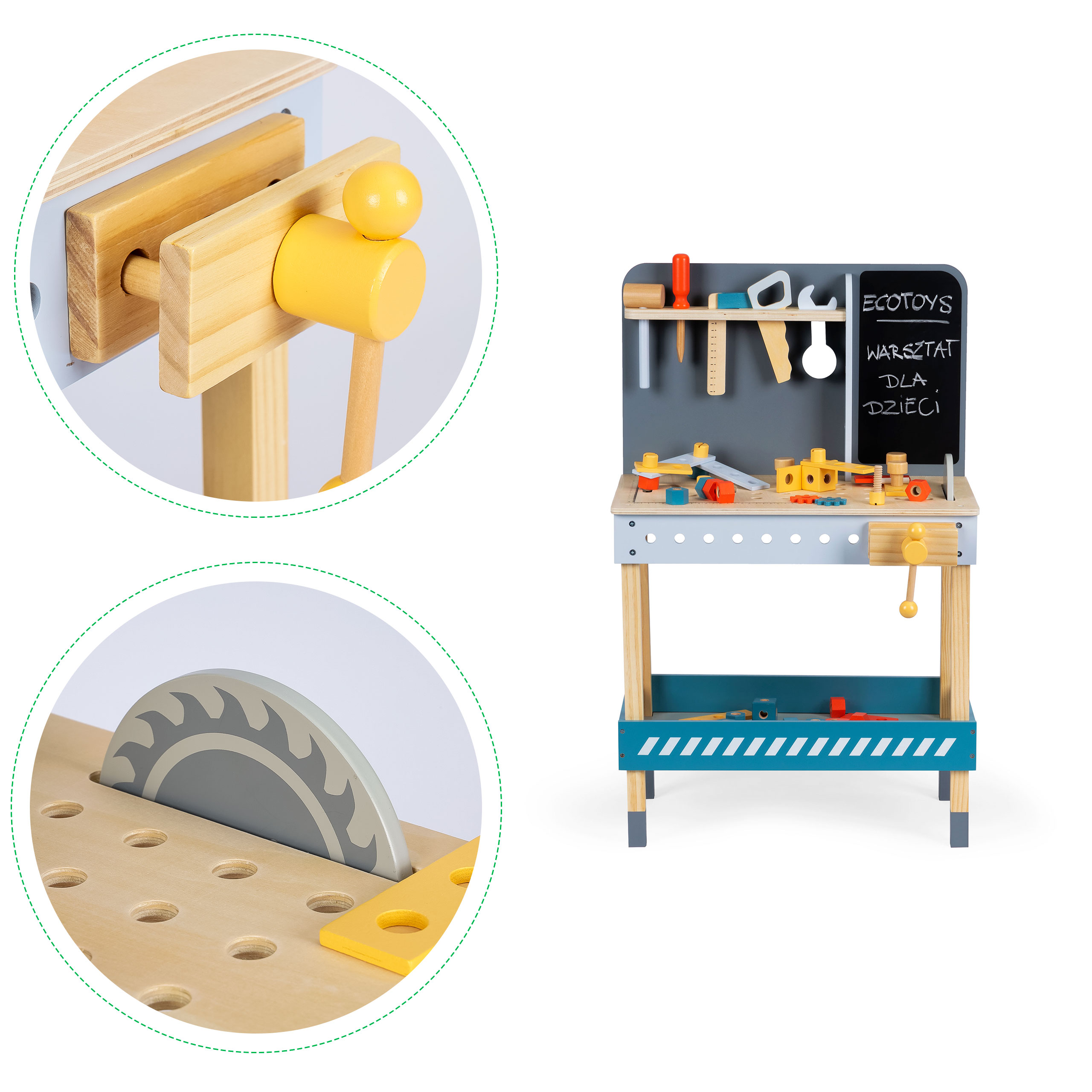 PORZĄDEK TO PODSTAWA
Na pionowej ścianie umieszczono organizer, który pomoże zapanować nad porządkiem w warsztacie. Dzięki zabawie Twoja pociecha wyrobi nawyk odkładania przedmiotów na swoje miejsce.
Do dyspozycji majsterkowicza jest tablica kredowa, na której maluch może zapisać ważne informacje.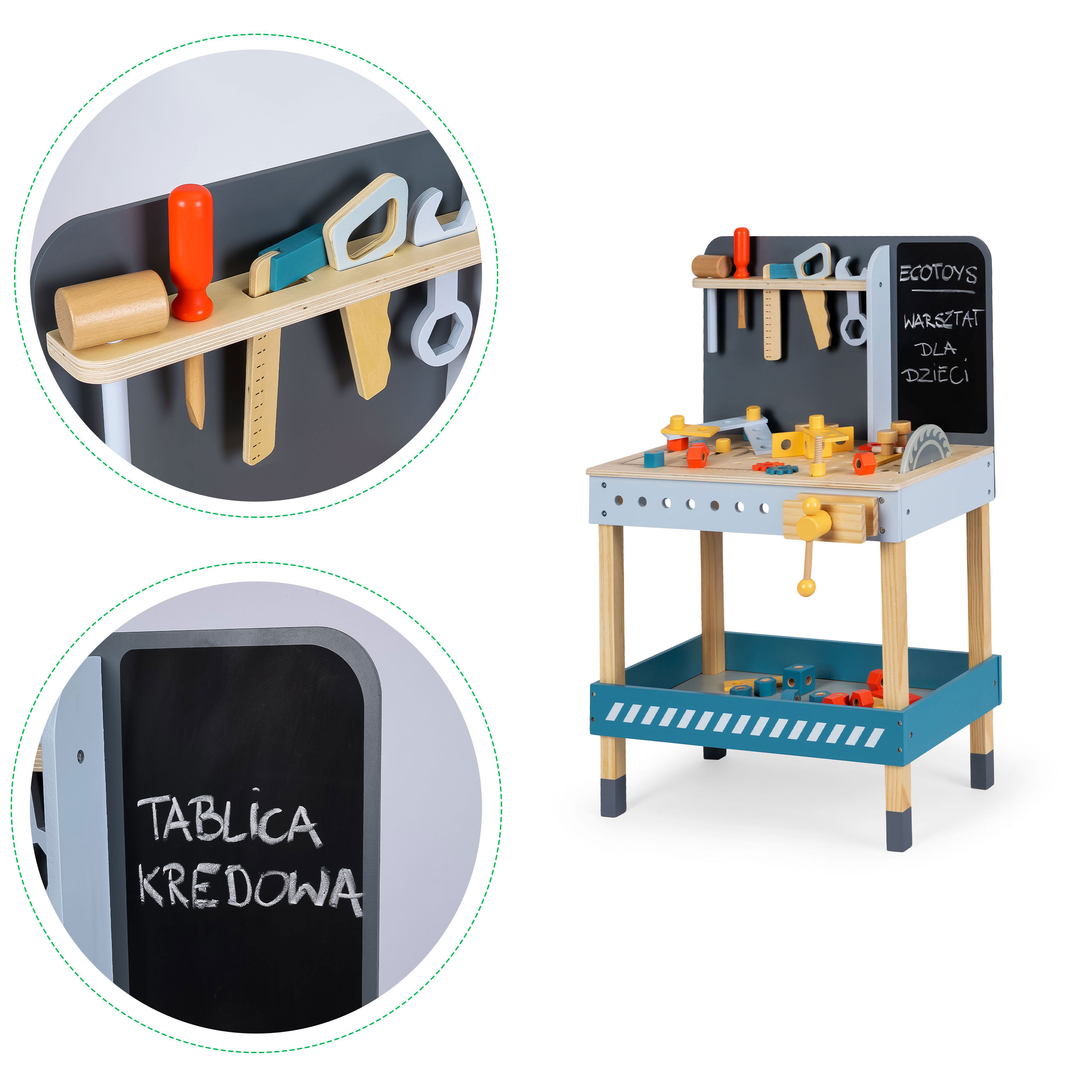 DUŻY BLAT
Blat ma w sobie wiele ciekawych funkcji są tam specjalne otwory do wbijania "gwoździ", dwie miarki, labirynt oraz obrotowa tarcz piły. Jego duża powierzchnia pozwoli na swobodna zabawę pełną twórczych pomysłów.Pod blatem znajdziemy półkę na śruby i wszelkie inne przedmioty bez których nie obejdzie się żaden majsterkowicz.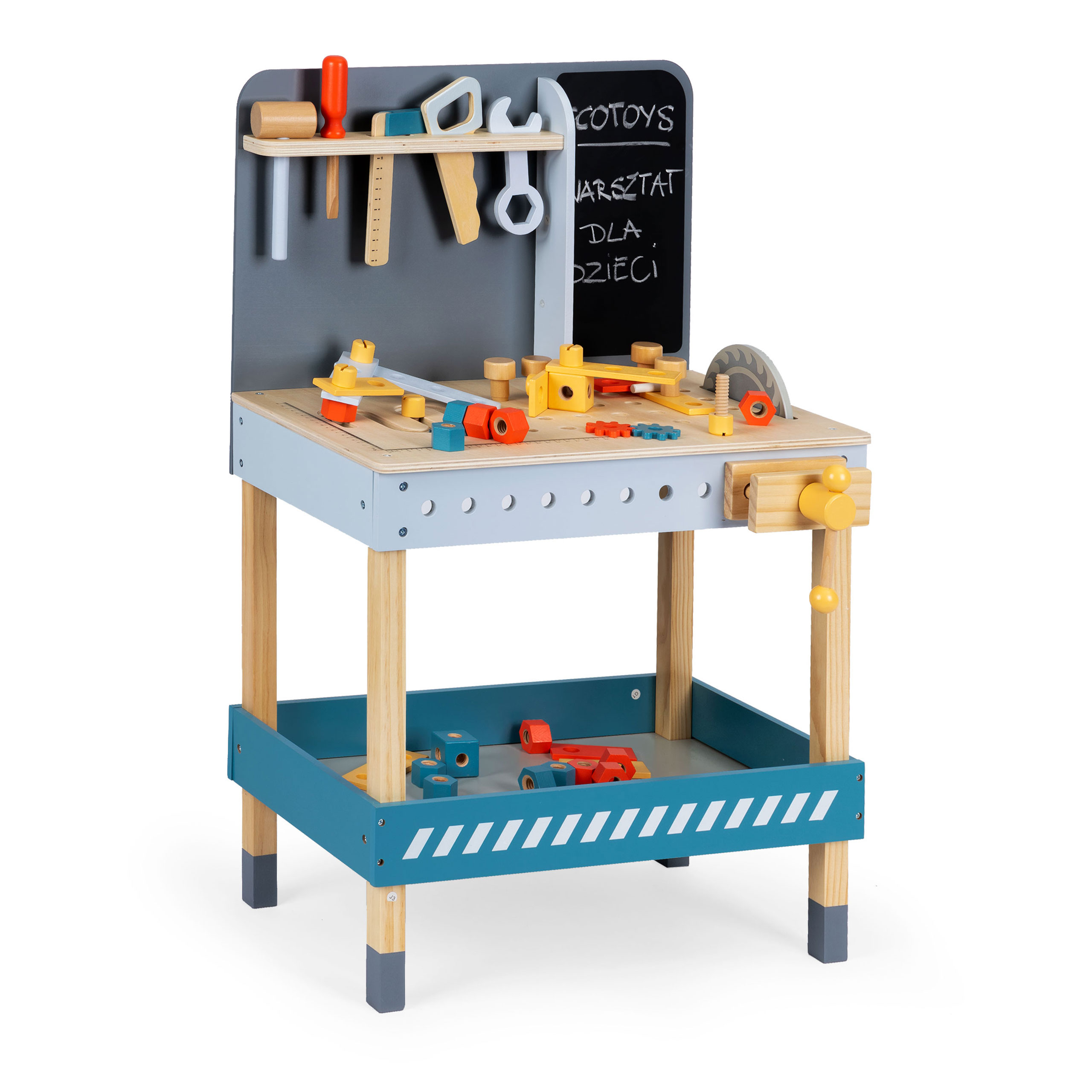 WSZYSTKO W ZESTAWIE
Wszystkie narzędzia oraz akcesoria wykonane są z drewna, pokryte bezpiecznymi farbami i pozbawione ostrych, niebezpiecznych krawędzi.
Przyszły majsterkowicz ma do dyspozycji:
Piła
Miara
Młotek
Klucz do nakrętek
Śrubokręt
Śruby
Nakrętki
Gwoździe
Deseczki z otworami
2 zębatki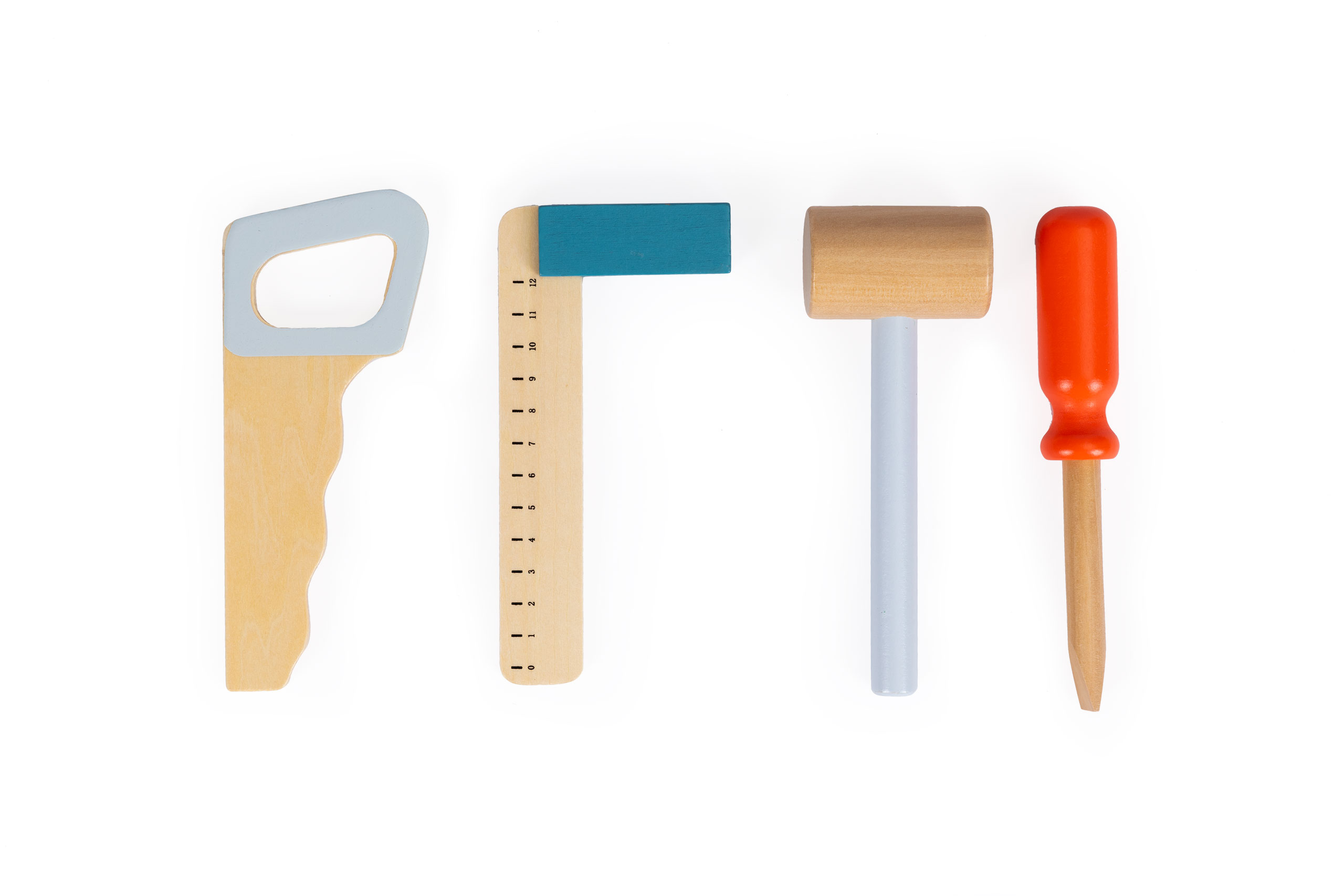 SPECYFIKACJA
Drewniana bezpieczna konstrukcja/li>
Dla dzieci od: 3 lat/li>
Certyfikaty: CE, EN71,/li>
Zawartość: warsztat + narzędzia + 42 dodatki/li>
Waga: 4 kg/li>
Czas montażu: ok 15 minut/li>
Kod produktu: ESC-W-033/li>
Producent: ECOTOYS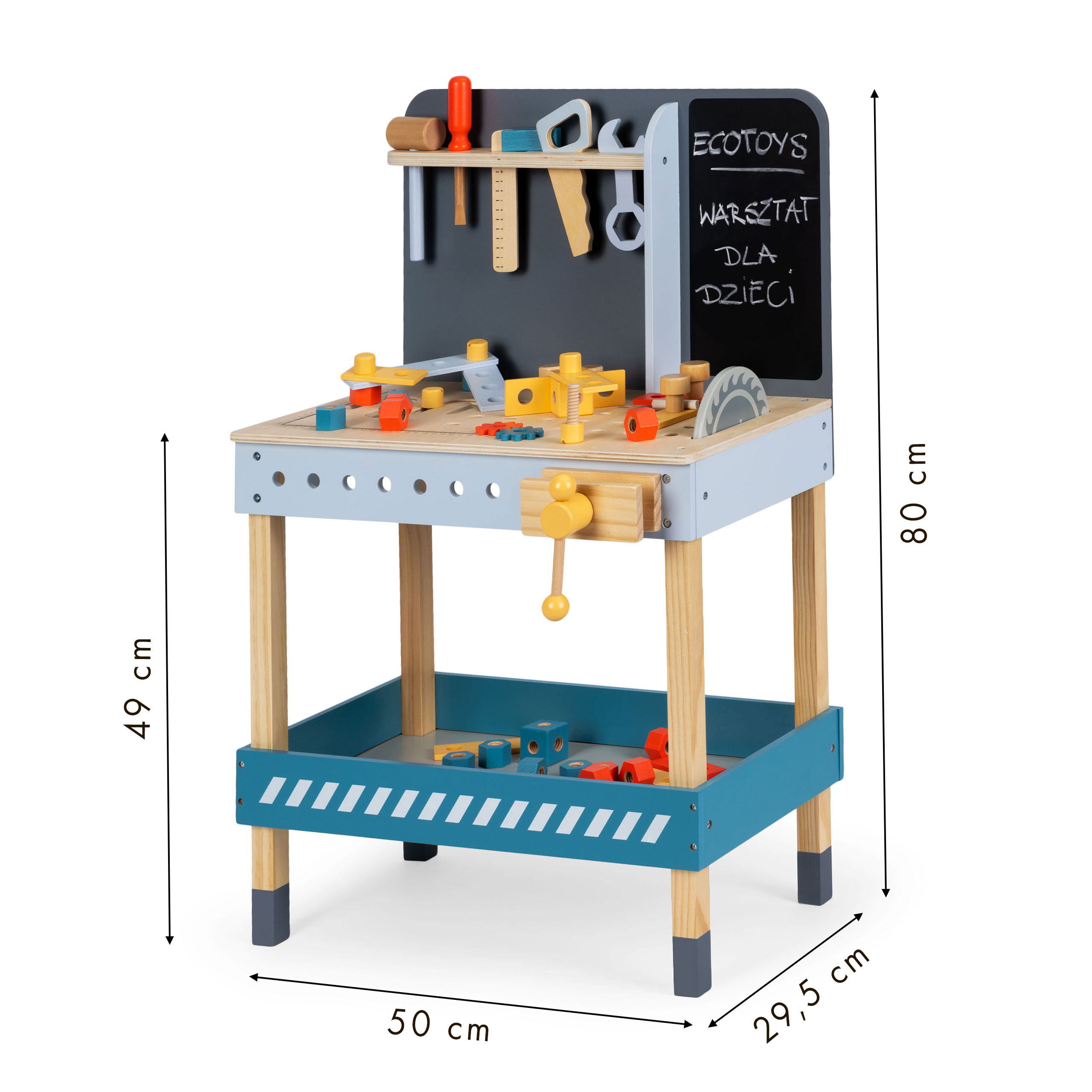 There is currently no comments or ratings for this product.
Recently viewed products

Other Customers also purchased

Similar products