Language
Meble ogrodowe zestaw stół 2x fotel ławka ratan
Shipping within

24h

Shipping price

The Lack Of

The Availability Of

Średnia dostępność

47

opak

The Weight Of The

27 kg
| | |
| --- | --- |
| The bar code | |
| EAN | 5903769971589 |
Zamówienie telefoniczne: 888333548
Description

Reviews & ratings (0)

Ask a question
ZESTAW MEBLI OGRODOWYCH
2 wygodne krzesła i ławka
Funkcjonalny stolik ze szklanym blatem ( szkło hartowane )
Solidna metalowa konstrukcja, wykończona technorattanem
Maksymalne obciążenie - krzesła - 150 kg, ławka - 250 kg
Miękkie, wygodne poduszki na siedziska ( możliwość prania )
Meble odporne na warunki atmosferyczne
Łatwe w czyszczeniu
Prosty, uniwersalny design
Łatwy montaż
Produkt marki: ModernHome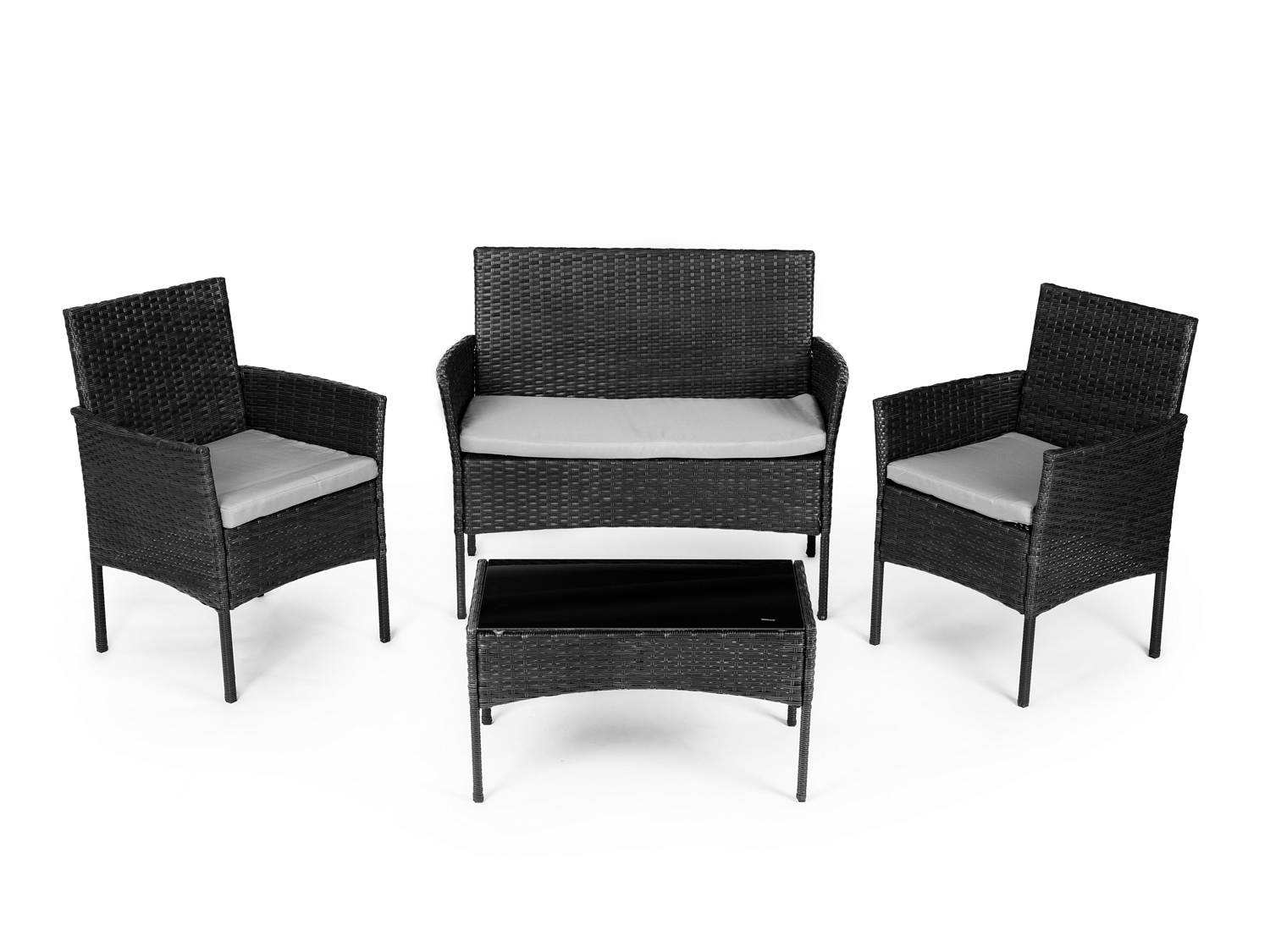 IDEALNY DO OGRODU, NA TARAS I BALKON
Zestaw został wykonany z wysokiej jakości tworzywa - technorattanu, który cechuje się dużą wytrzymałością oraz odpornością na warunki atmosferyczne. Solidna, metalowa konstrukcja sprawia, że meble są stabilne i trwałe, co gwarantuje żywotność przez wiele sezonów. Zestaw jest idealnym uzupełnieniem balkonu, tarasu, czy strefy relaksu w ogrodzie.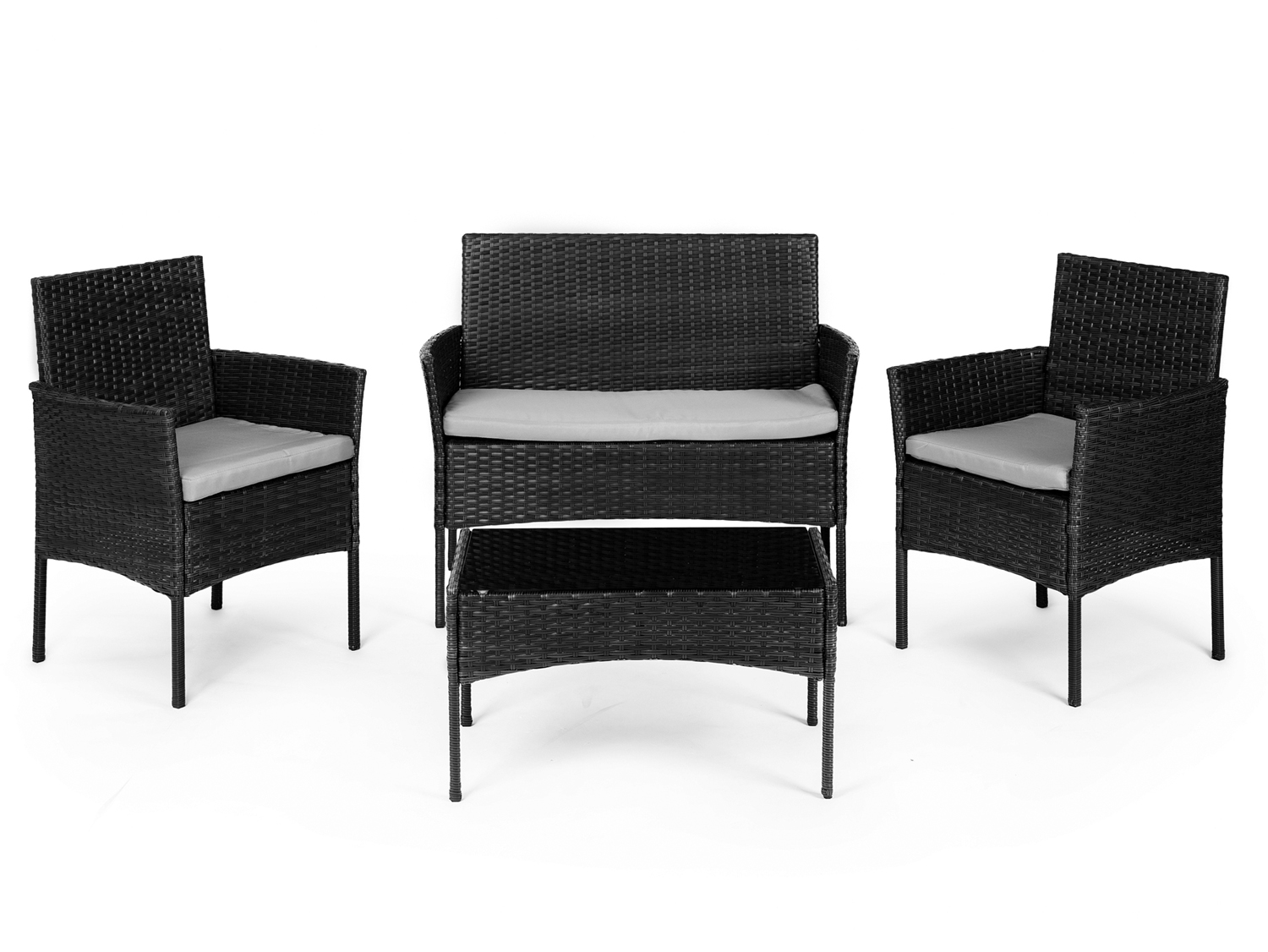 ŁAWKA 2 OSOBOWA
Ławka, stylem dopasowana do krzeseł stanowi największy element zestawu, jej wymiary zapewniają komfort siedzenia dla 2 osób. Tak jak w przypadku krzeseł, jej stelaż wykonano z metalu, co sprawia, że jest stabilna i wytrzymała, a jej obciążenie maksymalne to 250 kg. Głębokość i szerokość siedziska: 45x88 cm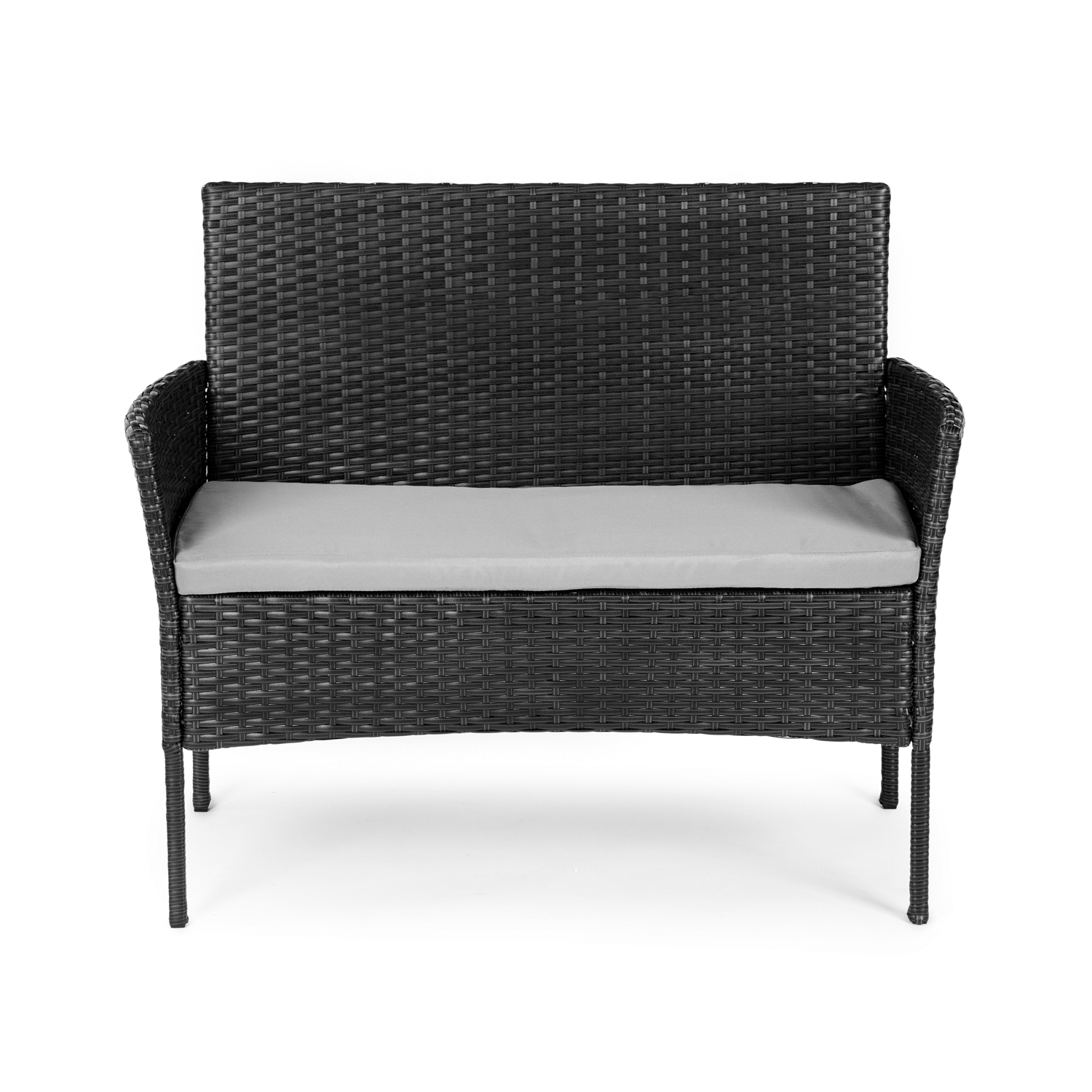 STOLIK
Funkcjonalny i stylowy stoliczek, to świetne uzupełnienie zestawu ogrodowego. Stolik posiada blat wykonany z hartowanego szkła, co sprawia, że jest on wytrzymały i bezpieczny w użytkowaniu. Mimo niewielkich wymiarów, stolik doskonale spełnia swoją funkcję. Możesz odstawić na nim poranną kawę, ulubioną książkę lub gazetę, dzięki niemu wszytko masz pod ręką.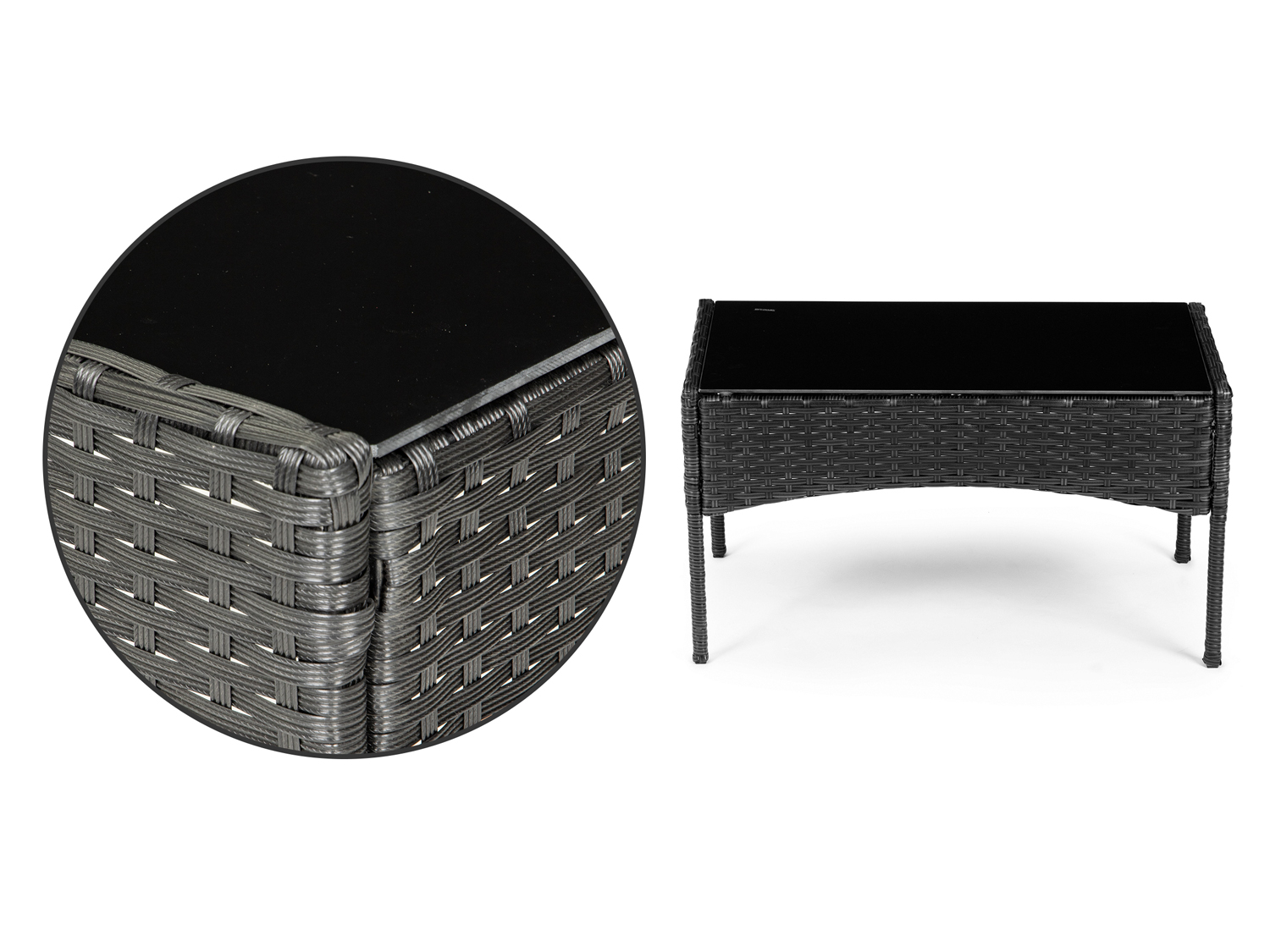 KRZESŁA
Proste nogi i specjalnie wyprofilowane boki krzeseł, nadają meblom wyjątkowego charakteru, idealnego do ogrodu, lub na taras. Dzięki swojej lekkości oraz kompaktowym wymiarom, krzesła są również doskonałą propozycją na dla dysponujących nawet niewielkim balkonem. Uniwersalny kolor oraz ciekawy kształt sprawiają, że krzesła będą eleganckim dodatkiem, idealnie wpasowującym się w każdy rodzaj otoczenia. Głębokość i szerokość siedziska: 45x45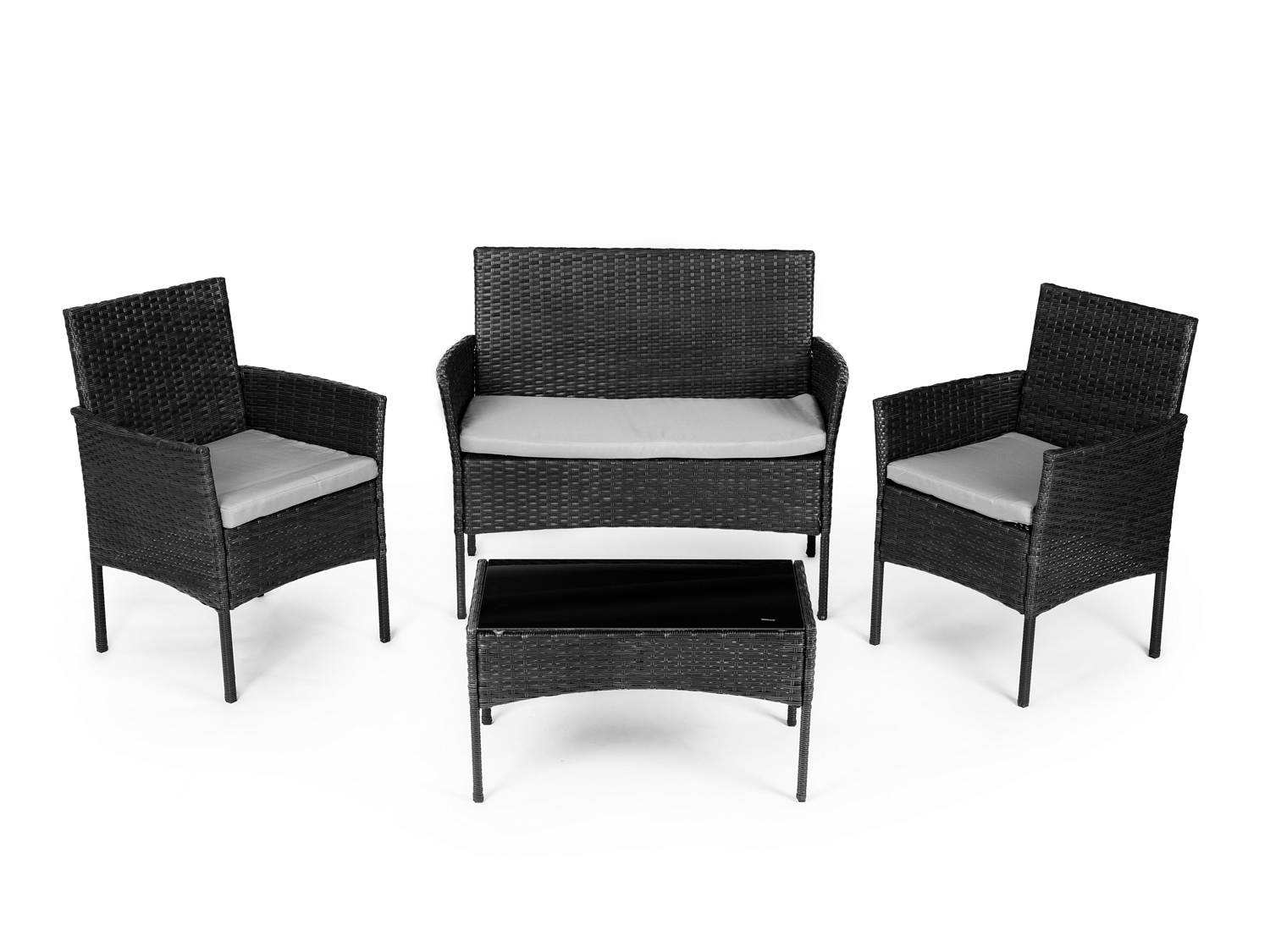 SPECYFIKACJA
Kod produktu: XS-RTS01 BLACK
Komplet zawiera: 2 krzesła i ławka z poduszkami, stolik ze szklanym blatem
Wymiar krzesła: 51x59x82 cm
Wymiar ławki: 52x102x82,5 cm
Wymiar stolika: 40,5x40,5x43 cm
Maksymalne obciążenie krzeseł: 150 kg
Poduszki: Poliester ( 180g ), wypełnienie - gąbka ( 5 cm )
Stelaż mebli: metal
Wykończenie mebli: technorattan
Waga zestawu: 25 kg
Produkt marki: ModernHome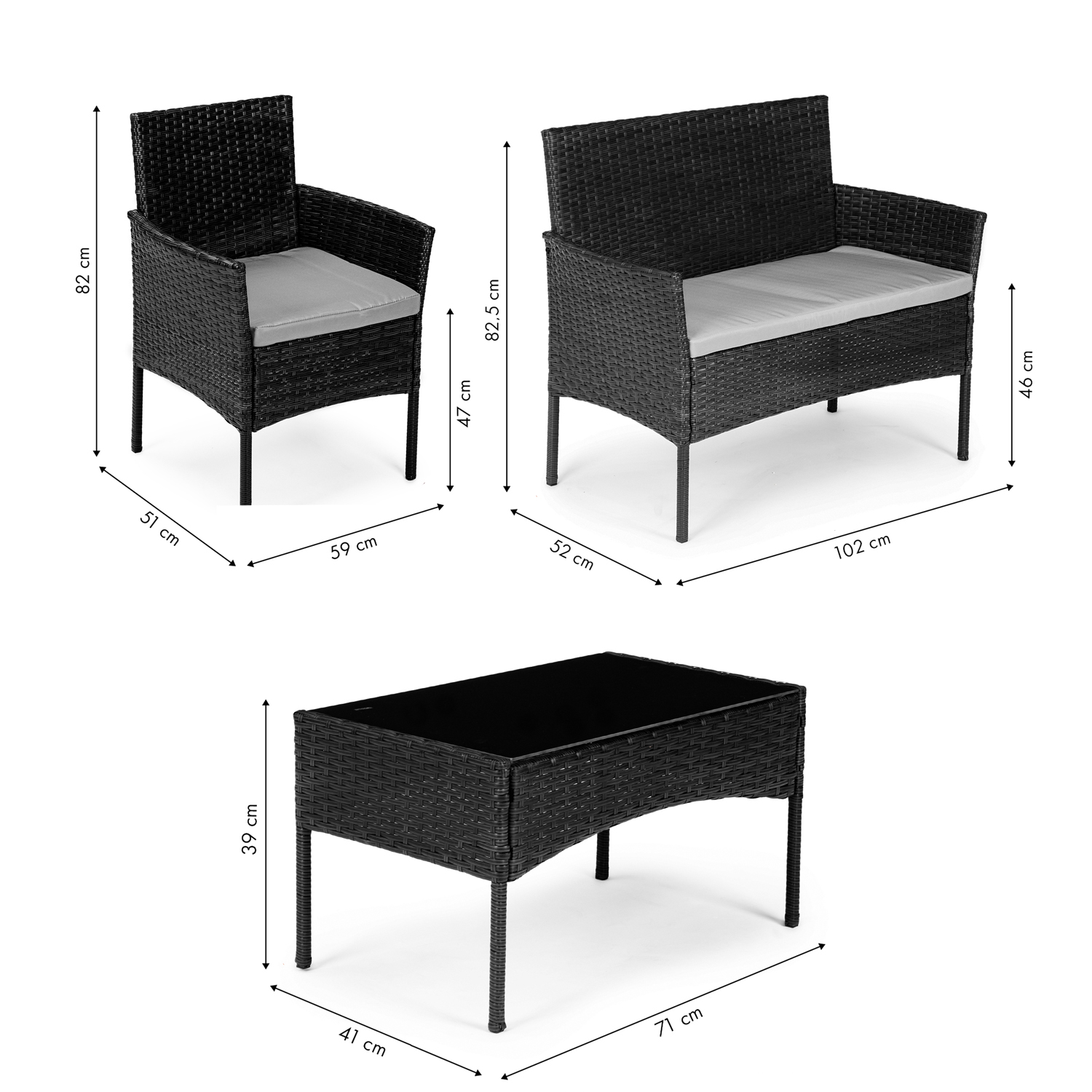 There is currently no comments or ratings for this product.
Recently viewed products

Other Customers also purchased

Similar products