Language
Samochód Monster Truck 4WD 2.4GHz Wl Toys 1:12
Shipping within

24h

Shipping price

The Lack Of

The Availability Of

Brak towaru

0

opak

The Weight Of The

0.15 kg
Description

Reviews & ratings (0)

Ask a question
Samochód Monster Truck 4WD 2.4GHz Wl Toys 1:12
Wykonane z dbałością o najmniejsze detale auto, przeniesie Cię w świat fantastycznej zabawy i samochodowej rywalizacji.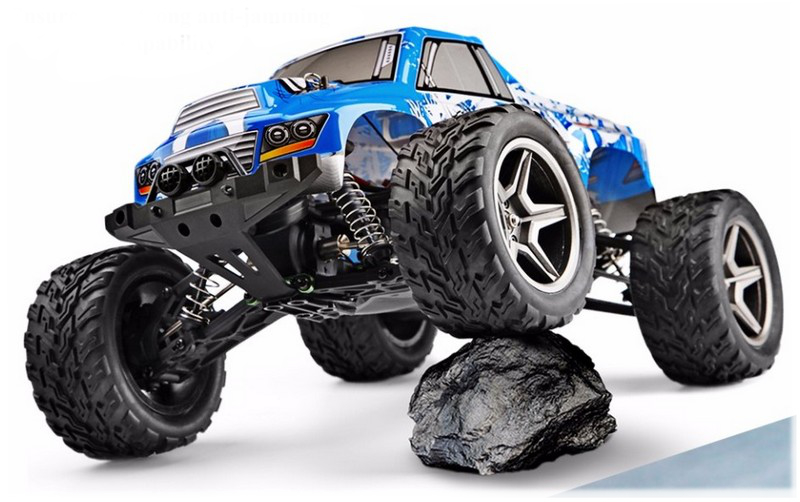 Poczuj wiatr we włosach!
Lepiej zapnij pasy: przyspieszenie tego samochodu robi piorunujące wrażenie!!! Ta niepozorna terenówka rozpędza się nawet do 45 km/h!
Odjechane wyposażenie!

Wyposażenie, zaprojektowane z myślą o fanach mocnych wrażeń, pozwoli cieszyć się zabawką w każdych warunkach.
Zawieszenie jak marzenie

Wysokie i amortyzowane zawieszenie, napęd 4WD (na cztery koła) - czego chcieć więcej podczas szalonych rajdów po wertepach i bezdrożach? Czy to dywan w pokoju, trawiasta łąka, czy kamienisty podjazd - Twoja bryka poradzi sobie z każdym terenem!
Terenowe opony

To, czego potrzebujesz na piaszczyste bezdroża i wyboiste trasy to solidne, elastyczne, duże i szerokie opony z bieżnikami, doskonałe do jazdy po nierównym terenie, np. trawie, ziemi - w tym modelu nigdy cię nie zawiodą!
Żywa kolorystyka
Samochód dostępny jest w przyciągającym uwagę, intensywnym kolorze niebieskim z ciekawymi napisami i grafikami.

Obudowa z elastycznego tworzywa ABS i gumowe opony oraz specjalnie zaprojektowane zderzaki zapewnią gładką i przyjemną jazdę bez obawy o uszkodzenie zabawki nawet podczas szalonej zabawy!
RTR - model od razu gotowy do zabawy!!!
Nowoczesny pilot 2.4 Ghz
Model RC z aparaturą sterującą typu pistoletowego to świetny wybór dla wszystkich, którzy chcą czerpać maksimum przyjemności z zabawy. Ergonomiczny i niezwykle prosty w obsłudze pilot jednokanałowy, pozwala w pełni zapanować nad autkiem, dostarczając przy tym sporo wrażeń i dobrej zabawy.

Pilot z funkcją antyzakłóceniową, działający na częstotliwości 2.4 Ghz, całkowicie zmieni charakter zabawy i przeniesie Cię w nowy, lepszy wymiar przygody z modelarstwem RC! Pilot 2.4 Ghz zapewnia:
precyzyjne sterowanie trymerem kierunku i sterowanie samochodzikiem 4 kierunkach: przód/tył, skręty lewo/prawo,
brak zakłóceń,
większy zasięg aż do 50 m bez utraty kontroli nad modelem i jego stabilności,
możliwość zabawy wieloma modelami RC jednocześnie, bez obawy o możliwość wystąpienia zakłóceń na linii model-nadajnik.
Odjazdowy prezent dla dziecka i dorosłego
Zdalnie sterowane auto to świetny prezent dla każdego - dziecka i dorosłego. Taka zabawka z pewnością spodoba się każdemu, zapewniając długie godziny przyjemnej i rozwijającej koordynację ruchowo-zmysłową zabawy.
Jakość i bezpieczeństwo
W trosce o najmłodszych, samochód wykonano z estetycznych i bezpiecznych materiałów. Model nie posiada żadnych nierówności czy ostrych krawędzi - idealnie nadaje się do zabawy dla dzieci i dorosłych.
Zawartość zestawu:

model RC - samochód zdalnie sterowany 12402
pilot zdalnego sterowania
ładowarka
akumulator 7.4V 1500mAh li-po,
oryginalne opakowanie
Pilot do działania wymaga użycia baterii AA ("paluszki) - brak baterii w zestawie.
Parametry:
| | |
| --- | --- |
| Wymiary: | 38 x 27,5 x 19 cm |
| Wymiary opakowania: | 51x21x29 cm |
| Skala: | 1:12 |
| Prędkość jazdy: | do 45 km/h |
| Czas jazdy: | do 10 minut |
| Zasięg pilota: | do 50 m |
| Zasilanie: | samochód - akumulator 7.4V 1500mAh li-po |
| Czas ładowania: | ok. 3 h |
There is currently no comments or ratings for this product.
Recently viewed products

Other Customers also purchased

Similar products