Language
Samochód Monster Truck 9116 2.4 GHz 2WD Truggy
Shipping within

24h

Shipping price

The Lack Of

The Availability Of

Brak towaru

0

opak

The Weight Of The

0.15 kg
Description

Reviews & ratings (0)

Ask a question
Model RC. Samochód Monster Truck 9116 2.4 GHz 2WD Truggy - zabawka zdalnie sterowana, skala 1:12.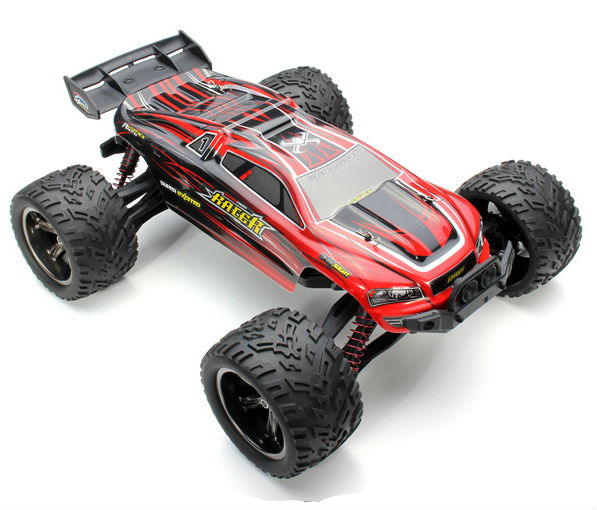 Pogromca terenu
Monster Truck jest dokładnie taki, jak mówi jego nazwa - to prawdziwy pogromca terenu, któremu niestraszna żadna nawierzchnia.

Dzięki typowo offroadowej budowie, auto rewelacyjnie radzi sobie zarówno na betonie, jak i na trawie, piasku, a nawet na kamieniach, i to bez utraty przyczepności czy straty kontroli.

Duuuży!
Ponad 34cm długości sprawia, że ten samochód nie pozostanie niezauważony.

Ale to nie wszystko! Monster Truck to terenówka ze sportowym zacięciem, która pokazuje pazur dzięki tylnemu spojlerowi, pomysłowej konstrukcji podwozia oraz wydajnemu akumulatorowi.

Szybki!
W tym aucie masz szansę przycisnąć gaz do dechy i osiągnąć oszałamiającą prędkość niemal 38 km/h!
Sterowanie
Sterowanie odbywa się za pomocą profesjonalnego nadajnika 2,4Ghz, dzięki czemu zasięg jest dużo większy, a reakcja na sterowanie jest szybsza niż w przypadku tradycyjnych pilotów z częstotliwością 27/40 MHz. Zabezpieczenie antyzakłóceniowe umożliwia sterowanie wieloma autami w tym samym czasie.
4 niezależnie pracujące amortyzatory o dużym skoku,
duży kąt wychylenia na boki przedniej i tylnej osi,
napęd 2WD (na 2 tylne koła),
duże gumowe koła o specjalnie dobranym bieżniku, przystosowanym do nawierzchni piaszczystych, kamienistych i śliskich.
Solidna konstrukcja
Samochód został wykonany z najwyższej jakości, giętkich i niezwykle wytrzymałych materiałów, dzięki czemu jest odporny na uderzenia. Przedni zderzak zapewnia bezpieczeństwo podczas bardziej ekstremalnej jazdy i zabezpiecza na skutek "drogowych wypadków".
Nowoczesny pilot
Pilot zaprojektowano z wyjątkową dbałością o estetykę i prostotę obsługi. Pilot zapewnia szybki i wygodny dostęp do wszystkich funkcji i parametrów jazdy wraz z ich precyzyjną regulacją.
Jakość i bezpieczeństwo

Samochód Monster Truck 9116 2.4 GHz cechuje się starannością wykonania i dobrą jakością. Łączy w sobie funkcjonalność i ciekawy wygląd, czym przyciągają uwagę dzieci, jak również dorosłych. Poza sporą dozą doskonałej zabawy, samochód pozwoli rozwinąć zdolności manualne i koordynację ruchowo-zmysłową.

Samochód wykonano z wysokiej jakości, estetycznych i bezpiecznych materiałów. Model nie posiada żadnych nierówności czy ostrych krawędzi - idealnie nadaje się do zabawy dla dzieci (od 8 lat) i dorosłych.

Pełne bezpieczeństwo użytkowania gwarantuje certyfikat CE.

Zawartość zestawu:

samochód RC
pilot
ładowarka sieciowa
akumulator
oryginalne, nowe opakowanie
Parametry:
| | |
| --- | --- |
| Wymiary modelu: | ok. 34 x 26,5 x 12 cm |
| Wymiary opakowania: | 38,5 x 28 x 16,5 cm |
| Skala modelu: | 1:12 |
| Kierunki jazdy: | 4 - przód/tył, lewo/prawo |
| Prędkość: | do 38 km/h |
| Aparatura sterująca: | 2,4 GHz |
| Zasięg pilota: | do 80 m |
| Akumulator: | 9.6V 700MA Li-ion-Fe |
| Czas ładowania: | ok. 2 godz. |
| Czas zabawy: | do 10 min. |
| Waga auta / opakowania: | 945g / 1720g |
| Kolory: | czerwony oraz żółty |
There is currently no comments or ratings for this product.
Recently viewed products

Other Customers also purchased

Similar products