Language
Trampolina Ogrodowa 312cm/10ft czerwona Maxy Comfort PLUS Z Wewnętrzną siatką Jumpi
Shipping within

24h

Shipping price

The Lack Of

The Availability Of

Średnia dostępność

39

opak

The Weight Of The

55 kg
| | |
| --- | --- |
| The bar code | |
| EAN | 5908258490183 |
Zamówienie telefoniczne: 888333548
Description

Reviews & ratings (0)

Ask a question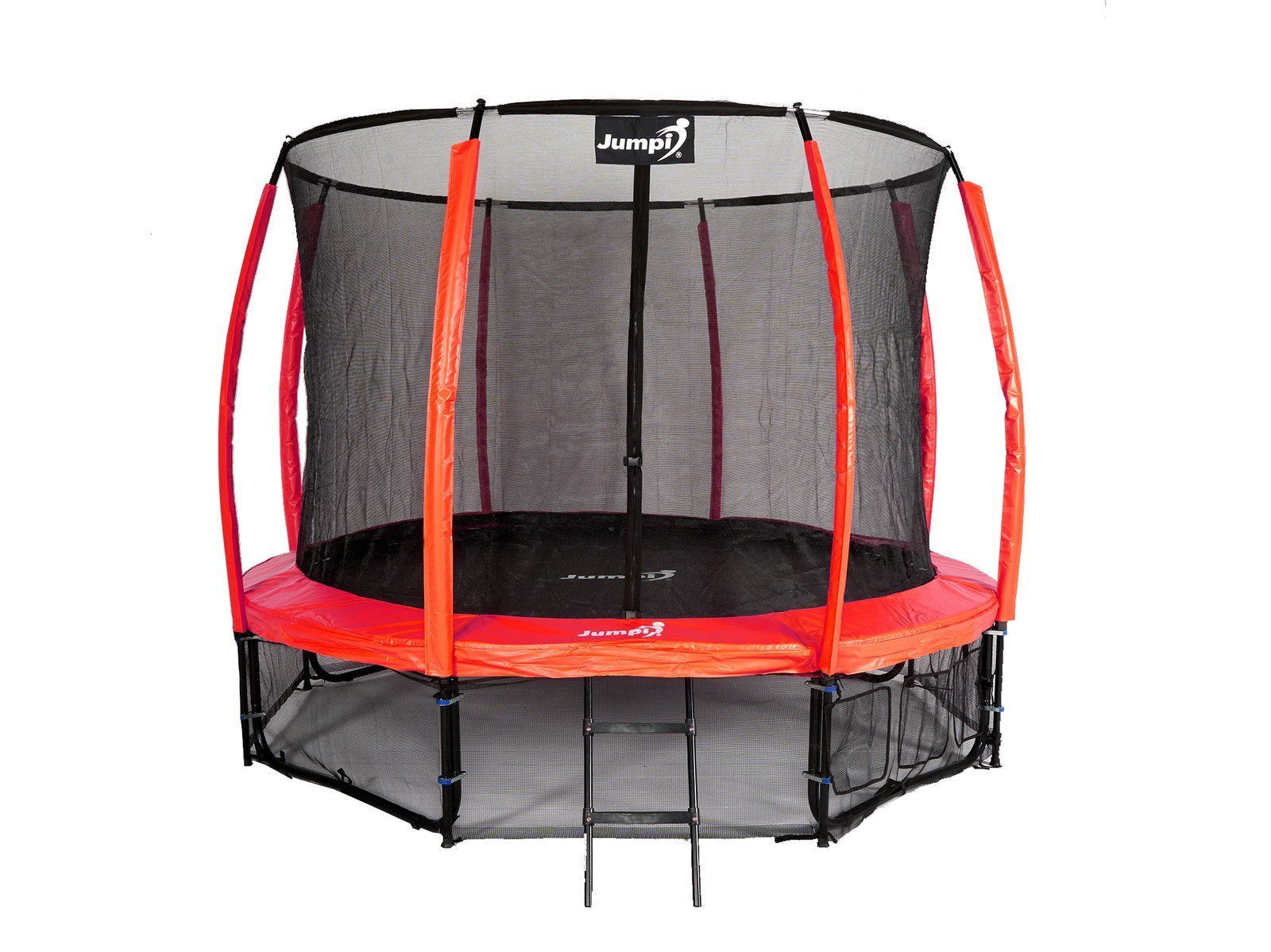 Korzyści ze skakania
Skakanie na trampolinie niesie za sobą szereg pozytywnych skutków. Przyczynia się do:
dotlenienia organizmu, dzięki szybszej pracy układu sercowo-naczyniowego, rozwijania mięśni całego ciała, poprzez pracę wszystkich ich partii, spalania tkanki tłuszczowej (przez jedną godzinę skakania spalić można aż 1000 kcal!) zwiększenia gęstości kości, a przez to zmniejszenia ryzyka złamań, zwiększenia wydolności organizmu, zwiększenia produkcji białych krwinek, odpowiedzialnych za ochronę organizmu przed wirusami i drobnoustrojami.
Dodatkowo zabawa oraz treningi na trampolinach zwiększają produkcję endorfin - hormonów szczęścia. Dzięki temu redukuje się stres oraz napięcia, a my jesteśmy bardziej zrelaksowani.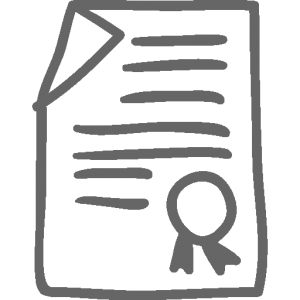 NAJWYŻSZA JAKOŚĆ PRODUKTÓW
Produkty Jumpi charakteryzują się dbałością o szczegóły i wysoką jakością użytych materiałów.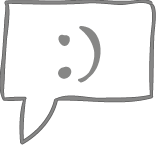 GWARANCJA UŚMIECHU
Na wszystkie nasze produkty otrzymują Państwo gwarancję uśmiechu swoich pociech.
NIEZAWODNOŚĆ I BEZPIECZEŃSTWO
Trampoliny Jumpi gwarantują niezawodność i bezpieczeństwo przez wiele sezonów wspaniałej zabawy.
ZABAWA I JESZCZE RAZ ZABAWA
Zabawa na świeżym powietrzu pomoże nam zadbać o zdrowie naszych pociech.
Jak zbudowana jest nasza trampolina?
Trampoliny ogrodowe Jumpi to najwyższej jakości produkty gwarantujące wspaniałą zabawę, ale także bezpieczeństwo Twojego dziecka. Przeszły one pozytywnie wiele testów i posiadają certyfikat CE oraz GS TUV. Z własnego doświadczenia wiemy, jak ważne dla rodziców jest bezpieczeństwo naszych pociech. To właśnie gwarancja bezpieczeństwa stała na pierwszym miejscu przy produkcji naszych trampolin.
WYSOKA JAKOŚĆ MATERIAŁÓW
Trampoliny Jumpi posiadają certyfikat CE oraz niemiecki certyfikat GS TUV.
Wszystkie elementy trampolin wykonane są z najwyższej jakości materiałów, dzięki czemu możemy mieć pewność, że trampolina nie zepsuje się w krótkim czasie i żadna z części nie będzie wymagała przedwczesnej wymiany. Aby przedłużyć jej żywotność warto korzystać z pokrowca na matę dołączonego do zestawu. Zapewnia on dodatkową ochronę batutu w czasie przerw od skakania.
W efekcie trampolina Jumpi może wzbogacić dzieciństwo niejednego dziecka na przestrzeni lat, dając naszym pociechom setki godzin śmiechu i zabawy.
PRZEMYŚLANE ZABEZPIECZENIA
Ponieważ bezpieczeństwo jest dla nas najważniejsze, nasze trampoliny wyposażone są w specjalne zabezpieczenia:
osłonę na rzepy, całkowicie zakrywającą sprężyny i ramę, siatkę wewnętrzną, oddzielającą skaczącego od stelażu, dzięki której dziecko nie wywróci się na osłonę, ani nie spadnie z trampoliny. Siatka posiada zamek błyskawiczny i dwa zabezpieczające klipsy, siatkę dolną, która uniemożliwia wejście dziecka pod batut w czasie zabawy. Miejsce to może pełnić rolę schowka na obuwie, dwustopniową drabinkę ułatwiającą bezpieczne wejście i zejście z trampoliny, wyposażoną w plastikowe elementy, zapobiegające poślizgowi.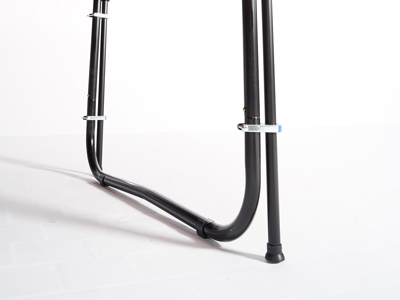 STABILNA I MOCNA BUDOWA
Konstrukcje nośne naszych trampolin wykonane są z solidnych rur. Zapewniają one wytrzymałość i dużą stabilność oraz gwarantują odporność na odkształcenia i uszkodzenia. Na konstrukcję składają się:
dolna rama z przymocowanymi do niej galwanizowanymi sprężynami, które napinają batut, batut - wyjątkowo elastyczny i odporny na długie skakanie, słupki, do których przytwierdzony jest, wykonany z włókna szklanego, górny ring, wzmocnione nogi mocowane do gruntu przy pomocy kotew.
Trampoliny Jumpi posiadają wiele atutów - jednym z nich jest mocna siatka wewnętrzna. Jest ona najważniejszym elementem gwarantującym bezpieczeństwo skakania. Nasze produkty wyposażone są w zamykane wejście i specjalnie wzmacnianą konstrukcję. Słupki konstrukcyjne pokryte są warstwą grubej pianki, dzięki czemu są odporne na czynniki atmosferyczne i promieniowanie UV. Równie odporna jest osłona zakrywająca sprężyny. Dzięki temu, że sprężyny są bardzo mocne i hartowane, trampoliny cechują się dużą wytrzymałością, jednocześnie zachowując elastyczność przez wiele lat. Ich konstrukcja złożona jest z grubych rur (o dużej średnicy i grubszej ściance), umiejscowionych od samego podłoża, aby jeszcze mocniej podtrzymać trampolinę.
Wszystkie te cechy sprawiają, że nasze trampoliny są tak wyjątkowe, a przede wszystkim w pełni bezpieczne i trwałe!
Pełen komplet zawiera
podstawowe części konstrukcyjne (stelaż, mata), kotwy mocujące, organizer na buty, siatkę zabezpieczającą wewnętrzną, siatkę zabezpieczającą dolną, pokrowiec na matę, dwustopniową drabinkę.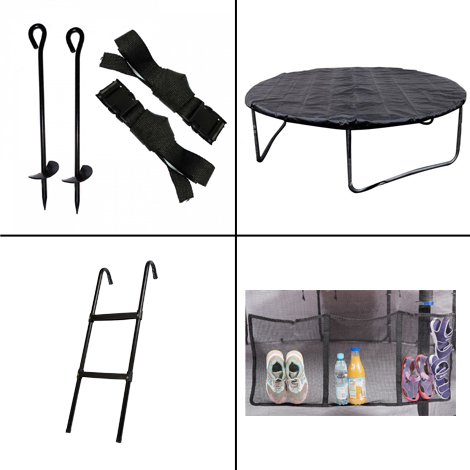 JAK DBAĆ O TRAMPOLINĘ?
W naszym zestawie poza częściami konstrukcyjnymi znajduje się m.in. pokrowiec, który będzie doskonale chronić urządzenie przed wpływem niekorzystnych warunków, m.in. w trakcie deszczu czy też bardziej długotrwałej przerwy w używaniu trampoliny. Korzystanie z niego zagwarantuje jej przedłużoną żywotność. Ta dodatkowa warstwa uniemożliwia zbieranie się kurzu czy też liści na powierzchni batutu, a w efekcie chroni przed jego stopniowym niszczeniem i ścieraniem.
Aby założyć pokrowiec należy ściągnąć siatkę, słupki i górny ring, jednak nie jest to nic trudnego ani czasochłonnego. Po zdjęciu pokrowca możemy dalej cieszyć się skokami na naszej trampolinie.
Gdy zakończy się sezon na skakanie, warto zupełnie poskładać urządzenie, aby przez pozostałą część roku stało w odpowiednich dla niego warunkach - najlepiej schowane w pomieszczeniu. Jeśli nie jest to możliwe, rama może pozostać na zewnątrz okryta pokrowcem, jednak należy wówczas zdjąć elementy najbardziej narażone na niszczenie m.in. sprężyny.
Dane techniczne
Średnica trampolina: 312 cm Średnica maty: 262 cm Ilość słupków: 8 Ilość nóg: 4 Maksymalne obciążenie: 160 kg Wysokość trampoliny: 230 cm Wysokość od podłoża do maty: 65 cm Wysokość siatki: 165 cm Waga trampoliny: 55 kg Siatka: polietylen Batut: PP. 280 g/m2 Osłona sprężyn: szerokość 30 cm wypełnienie pianką 1 cm Ilość sprężyn: 64 Długość sprężyn: 13,5 cm Rura stelażu trampoliny: średnica 3,9 cm grubość metalu 2 mm Rura nóg trampoliny: średnica 3,7 cm grubość metalu 2mm Wymiary kartonów: 121 x 31 x 15 cm/20,4 kg, 121 x 40 x 16 cm/17,7kg, 90 x 45 x 17 cm/19,5 kg
There is currently no comments or ratings for this product.
Recently viewed products

Other Customers also purchased

Similar products